Tell us about your Event
What type of event are you planning?*
Please choose an event type option
CONTINUE
Tell us more about your Event
Annual Ball
Community Event
Corporate Family Day
Easter Event
Festival
Fundraiser
Ice Breakers
Melbourne Cup
NYE - New Years Eve
Social Club Events
University Ball
Valentines Event
Workshop
Promotional Event
Children's Entertainment
Christmas Party
Engagement Celebration
Weddings
CONTINUE
More details about your event
HELP US UNDERSTAND YOUR EVENT BETTER
You may select one or more
New South Wales
Queensland
South Australia
Tasmania
Victoria
Western Australia
Australian Capital Territory
Northern Territory
International
CONTINUE
Let's create something exciting
Have you thought about a
theme?
Here is a selection of current popular themes
Gold Theme
Havana Nights Theme - Havana Themed Events
80s Themed Events - 1980s Nostalgia
Dr. Seuss Theme - Themed Events & Parties
Christmas Theme - Festive Season Theme
Rocky Horror Theme Rocky Horror Picture Show
Sports Theme for Events and Parties
Superhero Themed Entertainment
Wild West Themed Events & Entertainment
Themed Event Entertainment and Party Hire
Las Vegas Themed Entertainment for Events
Willy Wonka Themed Entertainment for Events
Winter Wonderland Themed Event Entertainment
Fire and Ice Theme - Event Entertainment
Food and Wine Event Theme
French Cabaret Themed Entertainment
French Theme Party Ideas
German Oktoberfest Themed Ideas
International Cultures Inspired Entertainment
Latin America Theme – Celebrate South America
Masquerade Ball Event Theme
Medieval Theme for Events & Parties
Mexican Themed Party Entertainment
New York Themed Events - NYC Party Theme
Outback Australia Themed Entertainment
Racing Theme Event - Spring Racing Events
Arabian Nights Themed Ideas and Entertainment
Asian Themed Events and Entertainment
Australian Themed Party Ideas - Aussie Events
Back to the Future Theme for Events
British Themed Events - United Kingdom
Broadway Themed Events - New York Musical
Circus Theme Party Ideas
Cirque du Soleil Theme - Circus Entertainment
Fairytale Themed Party Ideas and Event Hire
Please choose an event theme
CONTINUE
SKIP
Let's Add Some Entertainment
What would you like your entertainment to do?*
You may select one or more
Motorbike Stunt Riders Hire
Astronaut Hire
Ice Slide Hire
Donut Wall Hire
Lolly Station Hire
Tenor and Soprano Singers Show
Murder Mystery Events
Custom Invitation Hire
Aura Photography Booth Hire
Online Bogan Bingo Host
Virtual Santa Gift Meetings
Corpse Bride Character / Weeping Widow
Giant Games for Corporate Family Days
The Master Blaster
International Entertainment
Strongman Hire
Entertainment Workshops
Shopping Center Activities
Side Show Circus Acts
LED Performers – For Corporate Functions
Activity Stations
Photo Booth Event Hire
Corporate Christmas Gift for Staff and Clients!
Christmas Game Show Online – Hosted by Santa
Online Santa Hire – Father Christmas
Virtual Murder Mystery Events – Online Hosts
Online Master of Ceremonies – Virtual Host
Online Hoax Performer
Online Magic Shows – Meet with a Magician
Online Cocktail Workshops – Virtual Cocktail Party
Online Celebrity Impersonators
Online Drag Queen Trivia & Bingo – Games Night
Online Juggling Workshop – Juggling Lessons
Online Casino Croupier – Character Dealer
Drag Queen Quarantine – Online Drag Shows
Online Game Show – Video Call Game Shows
Personalised Videos & Online Character Meets
Flash Mobs – Screaming Fans – Bucks Party Acts
Darth Vader Character Hire
Puppet Shows for Corporate Events
Cher Impersonator – Drag Queen Tribute Show
Mirror Characters Hire for Events
Fire Trumpet Performer Hire
Wilbur Wilde
Marty McFly Character Hire
Bikini Girls – Bathing Beauties
Cabana Pool Boy – Summer Event Coordinator
Historical Characters Hire
Live Giant LEGO Builds for Promotional Events
The Divas Demise Murder Mystery Party
Freestyle Rappers
Freestyle Hip Hop Performance Hire
Fake Snow Hire
Disney Villain Characters for Events
Fiddler on the Roof Dance Hire
Superhero Character Hire
Lifeguard and Pool Boy Coastguard Hire
Scooby Doo Character Hire – The Mystery Gang
The Whos of Whoville Christmas Characters‌
Lollipop Lyra Installation Hire
Sweeney Todd Character Impersonator Hire
The Cartoonables Characters – Roving Act
Hire Hypnotists / Mentalists for Shows & Events
Christmas Marching Band – Roving Jazz Band
LEGO® Team Building Workshops
Jareth the Goblin King Performer
Pedal Power – Interactive VR Games
Oompa Loompas for Hire – Character Performers
Hire The Cat in the Hat
Digital Interactive Games Hire
Virtual Reality Hire
Marching Band Hire – Musical Band
Corporate MC Event Host Master of Ceremonies
Fidel Castro Impersonator Performer Hire
Custom Spray Paint Accessories – Event Goodies & Party Favours
GPS Team Scavenger Hunt – App-Mazing Race
Zoolander Impersonator Character Hire
Zohan Character Impersonator Comedy Hire
Willy Wonka Character Performer Hire
Zidler Character – Inspired by French Cabaret
Wild West Murder Mystery Party
Wilbur Wilde Quiz Show – Corporate Games
The White Rabbit Character Impersonator Hire
Vanity Fair – The Fairest Red Carpet Event Host
Unicycle Performers Circus Acts Hire
Tweedle Dee and Tweedle Dum Character Hire
Ukulele Workshops – Team Building Events
Trivia Nights for Corporate and Private Functions
Tribute Bands Event Music Hire
Toy Soldiers Living Statue Performer Hire
Travelling Video Game Van – Exciting Event Hire
Town Crier Character Performer Hire
Tracy Gang Murder Mystery Party – The 20s
The Grinch Impersonator Hire
The Goon Show Tribute Live Act
That 80s Bingo Party – Game Show
That 90s Bingo Party Game Show
Team Anthem Workshop – Corporate Activity
Sybil Fawlty – Fawlty Towers Performer
Sword Swallower Circus Sideshow Act
Suddenly Famous – Live the Hollywood Star life!
Stunt BMX Bike Trick Performer Hire
Styling Parlour Stylist Hire – Hollywood Treatment
String Quartet Event Music Band Hire
Stilt Characters & Stilt Walkers for Hire
Statue of Liberty Performer Hire – Living Statue
Spice Girls Tribute/Themed Performance
Star Wars Characters Party Hire
Soul Brutha 1970s Disco Themed Performer
Snake Charmer and Python Handler Performer Hire – Exotic and Elegant
Sir Les Patterson Impersonator Australian
Silly Security Guard Door Greeters Hire
Silent Disco Hire – Music for Festivals, Parties and Functions in Australia
Silent Team Building – Corporate Workshop
Showgirls Cabaret Dancers Hire for Events
Shoe Shiners for Events Hire
Sherlock Holmes Character Impersonator Hire
Seymour Fame Glamour Character Host Hire
Screaming Fans Hire – High Energy Welcoming
Scoops McGee Paparazzi Character Hire
Santas Helpers Hire for Christmas Events
Santa Claus/Father Christmas Hire for Events
Salvador Dali Character Impersonator Hire
Russian Themed Dancers – Russia Folk Dancing
Ringmaster Circus Hire Performer for Events
Roller Girls Performer Hire
Red Carpet Hire for Holllywood Themed Events
Queen of Hearts Character Impersonator Hire
Queen Impersonator Character Performer Hire
Promotional Performers for Brand Activations
Prince Impersonator Pop Icon Performer Hire
Entertainment Coordinator Hire
Playboy Bunniez Jazz Show Performers Hire
Hire Pirates Characters for Events
Pirate Pursuit Corporate Team Building Games
Petting Zoo Hire for Corporate Family Events
Penguin Characters Performer Hire
Personalized Poetry Performance
Paparazzi Performers Hire – Fake Photographers
Pandemonium at the Prom 80s Murder Mystery
Outback Characters Hire Australian Events
Onsite Photo Printing – Event Photos in Minutes
Murder on the Dancefloor 70s Murder Mystery
Murder Mystery Private Party Games
Murder Mystery Corporate Team Building Games
Murder Mansion – Murder Mystery Party
Mrs Claus Christmas Character Hire
Mr Tails Contact Juggler Circus Character Hire
Mr Frost Character Performer Hire
Monty the Monkey – Monkey Circus Character
Mirror Man Character Hire
Mona Littlemore Bond Girl Character Performer
Minute to Win It Host – Team Building
Mini Me Character Impersonator Performer Hire
Mime Marcel Marceau Impersonator
Mini Golf Hire- Festivals/ Corporate Family Days
Mime Artists Performer Hire for Events
Michael Jackson Impersonator Hire
Martini Glass Girl Cabaret Burlesque Hire
Marilyn Monroe Impersonator Character Hire
Magicians Hire for Event Entertainment
Manuel Fawlty Towers – Tribute Act Performer
Magician Illusionist Stage Show for Events
Magic Skills Workshops – Team Building Events
Mad Hatter Character Impersonator
Lurch Impersonator Character Performer Hire
Lord Gorgeous and Lady Lovely
Living Tables Performer Hire for Events
Liza Minnelli Character Impersonator Hire
Living Statues Performer Hire
Liquid Nitrogen Ice Cream/Gelato for Event Hire
Liquid Nitrogen Gelato Workshop
Les Deux Mimes for French Themed Events
Laurel and Hardy Impersonator Hire
LED Dancers – Glow in the Dark Entertainment
Laser Shows and Laser Man Event Hire
Kylie Minogue Tribute Show
Kath and Kim Impersonator Hire
Juggling to Succeed Workshops – Fun Corporate Team Building
Jugglers Circus Performers Hire
Jean Darme French Character Performer Hire
Jaws Bond Villain Character Impersonator
Japan Taiko Drummers for Japanese Events
James Bond Character Impersonator Hire
James Dean Impersonator Performer Hire
Jack Sparrow Impersonator Character Hire
Jack Caddy Celebrity Golfer Character Hire
iPad Magic – Magic of the Future
In Killer Company – A Unique Murder Mystery
Impersonators Hire for Events and Entertainment
Humphrey Bogart Impersonator Performer
Hula Hoop Performers for Events
Hollywood Scandal Murder Mystery Party
Hollywood Icons Impersonator Character Hire
Hoax Mafia Hit/Fake Mafia Hit Prank Party Idea
Hoax Waiters/Fake Waiters Character Hire
Mariachi Band – Mexican Band Hire
Character MC – Unique Character Hosts
Haunted Horrors Murder Mystery Party
Gypsy Music Band Performers
Groucho Marx Character Impersonator
Grave Digger Character for Halloween Events
Fawlty Towers Gourmet Night Tribute Show
Gold Award Statues for Awards Nights
Glow Shows Performer Hire – LED Entertainment
Roman Gladiator Character Hire for Events
Horse Racing Themed Band – Giddy Up
Giant Pop Out Novelty Cake Surprise
German Bavarian Characters for Oktoberfest
Geisha Girls for Japanese Themed Events
Gangsters Characters for 1920s Theme Event
Futuristic Android Magician – Sci-fi Magic
Fundraiser Event Entertainment
Funny Fake French Artist
French Themed Entertainment
Freddie Mercury Impersonator Performer Hire
Frank N Furter – Rocky Horror Impersonator
Fortune Tellers/Tarot Readers Hire
Flair Bartending and Cocktail Artists
Fire Twirlers Event Performer Hire
Final Furlong Arcade Game Hire
Fembots Science Fiction Themed Character Hire
Fawlty Towers Impersonators – Fawlty Catering
Fairytale Fiasco Murder Mystery Party
Face Painters Hire for Promotional Events
Event Theme Styling – Event Decorating
Event Voice Over Artist Hire – Elevate your Event with Excellency
Event Photographers Hire – Professional Photos
Enchanted Fawns – Beautiful Characters of the Enchanted Forest
Elvis Impersonator Performer Hire
Elf-arazzi – Christmas Elf Paparazzi Characters
Edward Scissorhands Character Impersonator
Easter Bunny Hire for Easter Events
Drunk Santa Performer Hire Adults Only Act
Drag Queens Performer Hire
Dracula Character Impersonator Performer Hire
Dr Evil Character Impersonator Performer Hire
Dr Phil Impersonator Performer Hire
Doorman Event Welcoming – Entertainment
Don the Fruiterer Character Performer Hire
Doc Brown Character Impersonator Hire
DJ Hire for Parties and Events Entertainment
Dick Deveroux Character Host Hire for Events
Disco Dan Character Hire for Disco Events
Death at the Diner Murder Mystery Party
Daniel Tusia Professional Actor & Host
Daniel Tusia Character Host
Dame Edna Impersonator Performer Hire
Dancers Event Performance
Crocodile Dundee Impersonator Hire
Crepe Expectations – Dinner Theatre Show
Cowboy Characters for a Wild West Theme
Court Jester Character Hire
Game Show LIVE – Corporate Trivia Night
Action and Stunts LIVE – Corporate Stage Show
Corporate Drummers Performers Hire
Contortionists for Circus Themed Events
Commedia dell'arte – Italian Character
Comic Waiters Performer Hire
Comic Fortune Teller Character Performer Hire
Comic Umpires Characters
Cocktail Workshop – Learn to Make Cocktails
Clown Chefs Character Performer
Adagio Acrobatics Acts for Events
Circus Workshops Team Building Activities
Circus Characters for Circus Themed Events
Circus Clowns Hire for Events
Cigar Girls Character Hire for Events
Christmas Elves Hire for Christmas Events
Christmas Carolers – Festive Musical Acts
Christmas Capers Murder Mystery Party
Cheerleaders – Premium Entertainment
Cheese Matching Workshops – Creative Workshop Idea
Charlie Chaplin Impersonator Hire
Caterpillar Character – Alice in Wonderland
Casino Nights Hire for Event Entertainment
Casino Girl Host Performer
Carmine Character Host/MC Hire for Events
Caricaturists – Artist Hire for Events
Candy Tray Girl Hire – Candy Girl Hire
Caribbean Cruise Murder Mystery Party
Cancan Dancers – French Cabaret
Cabaret Acts Performers Hire
Burlesque Performance Hire
Giant Bubbles – Corporate Family Days
British Guards Impersonator Character Hire
Bookies Character Hire for Bent Bookies Events
Borat Character Impersonator Hire
Bond Girls for 007 and Casino themed Events
Bollywood Dance Hire – Indian Dancers
Bogus Bookies Horse Racing Event – Live or Online
Body Painted Characters and SFX Design Artist
Time Machine Bingo Party
Big Tony 1920s Gangster Character Hire
Flashmob Dancers – Flashmob Dance Show
Belly Dancers Hire for Events
Bella Ballerina Performer Hire
DIY DJ and Music – Beat Brix
Beetlejuice Character Hire for Halloween Events
Bathing Beauties Summer Character Hire
Basil Fawlty Towers – Tribute Act Performer
70s Quiz Show – Feat. Barry Morgan
Bands and Musicians Hire for Events
Ballerina in a Bubble – Unique Entertainment
Balloon Modellers Hire for Parties and Events
Austin Powers Impersonator Character Hire
Audrey Hepburn Impersonator Character Hire
Arnold Schwarzenegger Impersonator Hire
Arabian Character – Themed Character Hire
Alice Character Hire Alice in Wonderland
Ali G Character Impersonator Hire
Aerialists Performer Hire for Event Entertainment
Addams Family Character Impersonator Hire
Action Film Workshop – Team Building
James Bond 007 Characters Hire
CONTINUE
Tell us more about yourself
LET US KNOW HOW WE CAN GET IN TOUCH WITH YOU
Please verify that you are not a robot.
THANK YOU FOR SUBMITTING
AN ENQUIRY WITH US!
Want to tell us a bit more about
your amazing event?
CONTINUE
Based on the information you submitted,
we have put together some entertainment ideas.
VIEW ENTERTAINMENT
THANKS FOR SHARING!
What time would you like your entertainment to begin and finish?
Let's take your event to the next level!
Would you like to enquire about further event services?
You may select one or more
Please verify that you are not a robot.
THANK YOU FOR SUBMITTING
YOUR EVENT DETAILS WITH US!
END
Based on the information you submitted,
we have put together some entertainment ideas.
VIEW ENTERTAINMENT
Start

Step 2

Step 3

Step 4

Step 5

Step 6
Want to speak to us instead? Call Now 1300 261 545
*These fields are required
Get into the Oktoberfest mood!
Now, before we begin, I must admit that I only very recently learned that Oktoberfest, despite its name, is actually celebrated mostly through September, and only for the first week of October. The main reason for this, was that while it originally did occur in October, it began to be moved forward to take advantage of the nicer weather during September. Of course, to learn this, I also learned a lot more about Oktoberfest, or as the locals call it, wiesn. So, if that previous fact intrigued you, here are some more facts to really get you into the Oktoberfest mood for that final week! (Of course, if you still want to stick to your guns and hold a German-themed event in October, don't let me stop you!)
1.  Oktoberfest wasn't always about beer.
In fact, beer wasn't served at Oktoberfest celebrations until 1892, 82 years after the first Oktoberfest ever. Originally, it was held as a way to celebrate the wedding between King Ludwig I and Princess Therese of Saxe-Hildburghausen. The celebrations became an annual affair, including attractions such as horse races and other carnival booths and games, and to show off the agriculture. It was a public festival, with parades and the whole works, to celebrate this glorious wedding. While originally held in October, it began to be moved further forward so that the warmer September nights can be enjoyed. Nowadays, Oktoberfest generally take place from the 2nd week of September to the end of the 1st week of October.
2. The locals call it Wiesn.
It is short for Theresienwiese, which is the name of the grounds on which the original wedding, and now the annual celebration, takes place. It was named for the bride, Princess Therese. Just like the whole "holding it in September but calling it Oktoberfest" deal, the colloquial and local term doesn't include any hint of what it is all originally about. But then again, most cultural colloquialisms don't!
3. More chickens are consumed than bratwursts!
Nearly half a million roast chickens are eaten, compared to only about 100,000 pairs of pork sausages. To be quite fair, it's much more fun to say the words "bratwurst" when you're drunk.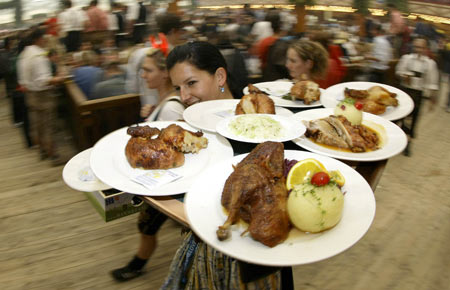 4. The beer served at Oktoberfest is a special, stronger brew.
Speaking of getting quite drunk, the beers are very specially brewed for Oktoberfest! There are a select few brewers who make a special recipe beer that is 1.3% stronger than your average beer. Add onto that the fact that every time you buy a beer it's at a whopping litre stein (or one mass), and you've got yourself a recipe for drunkenness!
5. There are many helpers and doctors on site, and a LOT of toilets!
As you can imagine, many people find themselves needing a bit more than just a lie down. The Red Cross tent onsite is usually very full, and after a toilet queue debacle of 2004, where the police had to step in to regulate access to the toilets, Oktoberfest has dramatically increased the number of toilets, and today there are around 1,800 toilets available. And they're probably quite frequently used, too!
6. Apart from the beer tents, there are also tents for phone calls, lost property, and lost children.
Oktoberfest is a very family friendly event! After all, it's a festival celebration. Children are completely allowed to attend, and in fact, there are many rides for the children as well! Sometimes, in the crowd, some children go for walkabouts, so luckily there is a place to find them should they go missing. Your property, on the other hand, such as passports, mobile phones…false teeth and weddings rings…they may not turn up as easily. You can always go through the lost property tent, however!
7. Oktoberfest has been cancelled quite a few times.
Because of cholera and war, mostly. Altogether, Oktoberfest had not been celebrated 24 times.
8. Oktoberfest is great for the economy, but it's still a mostly local affair.
As you can imagine, what with there being almost one mass of beer drank by each attendant, not to mention all the food and attractions, Oktoberfest is a great boost for the economy. However, it's not as packed with tourists as you think: only 19% of visitors are actually from outside of Germany.
---
Now that you've gotten some interesting facts about the Munich Oktoberfest, are you getting excited for your own, private one? We love any occasion to dress up in costume and put on a show, so you can imagine, of course, that we have many German-themed entertainment. If you're not so sure about holding your own Oktoberfest (yeah, I can imagine that the clean up might not be appealing), there are also many Oktoberfest events happening around you. Check them out, and get into the festivities!